The best social media platforms for your business
Here is our guide to choose the best social media platforms for your business, and how to make the most out of them. If your company is just starting to promote their business on the web, then you have to keep in mind these rules.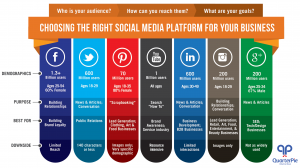 Twitter
Twitter is the dominant democracy of the social-sharing economy. Relevancy, personality and briefness are the keys to making your voice heard. One can use tools such as Buffer to schedule content in advance.
Who should use it: Everyone – from individuals to the largest multinational corporations
What to share: Start, join, and lead conversations; interact directly with brands and customers
Post frequency: Multiple times in a day
Facebook
Consider advertising or paying to promote your page on Facebook, but don't make your brand's Facebook page itself look like an advertisement. Inspire conversations and shares – and be sure to ask questions.
Of all social networks, Facebook is best equipped to linearly share responses to a post asking a question or sparking conversation. Answers then appear in friends of your respondents, spreading the conversation.
Facebook offers personal connection and an enjoyable distraction amidst the work day, but use typically peaks outside of work hours. There's no shortage of options for analyzing Facebook data. Track the success of your content by date and time to hone in on the best times for engaging your audience.
Useful tools:
URL shortener Bitly does more than just shrink the links. Each time you convert a link, Bitly offers stats on clicks generated from that specific link, making it helpful to see how much traffic is brought directly from sharing to Facebook.
Who should use it: Everyone
What to share: All types of online content, events, ads
Post frequency: Once or twice a day
Instagram
Instagram invites brands with visual content into their customers' zone-out time. Create and post content accordingly. You can experiment with those followers, but it's likely that the best time to target your posts will be to get to your audience's eyes during their commutes, nights, and weekends.
While hashtags are clickable and useful for search purposes, include a relevant hashtag to become more discoverable on Instagram and to track engagement across sites where you share the content.
Followgram tool best social media platforms for business. Additionally, Followgram is a great tool for tracking your stats on the most liked and commented posts, along with top tags and locations.
Who should use it: Lifestyle, food, fashion, personalities and luxury brands with visual content
What to share: Share visual content, including short videos (less than 15 seconds)
Post frequency: Once a day
LinkedIn
LinkedIn is People – and connections to people – are everything. Keep company details and company profile page conscious of keywords and SEO and also, your network of members, employees and contacts is your most valuable content on LinkedIn.
Company seeking clients and individuals seeking employment should grow their LinkedIn networks by adding as many real connections as possible. Use your second and third-degree connections to request personal introductions and weed out the Internet's infinity of companies and applications, focusing on opportunities where you have some real connection.
Who should use it: Businesses (especially B2B service providers), Recruiters and Job-Seekers
What to share: Job-postings, company descriptions, employer/employee research
Post frequency: Two to four times a week
Google+
As Google's proposed alternative to Facebook, keywords and search engine optimization are central to the appeal of Google+. Link often to content on your own website to direct this search boost where you want it most.
Google plus best social media platforms for business.
Useful tools: Bloggers, set up Google Authorship to have your Google+ profile follow your content from across the Web in search results. More than any particular feature of Google+, users are enticed by integration with Google's other products.
Who should use it: Brands already on the other major social networks, B2B networking, bloggers
What to share: More formal and professional than Facebook; Hashtags have major search value
Post frequency: Once or twice a day
YouTube
Google treats its own well, and YouTube is the prime example of this fact. YouTube videos feature prominently in Google search results. Keep this in mind when naming and describing videos, and direct people looking for insight or explanations within your business topics to your brand's page.
Who should use it: Brands with video content and ads, anyone giving explanations or sharing expertise
What to share: Short (less than 1.5 minutes) video content
Post frequency: Once or twice a week
Pinterest
Pinterest differs from other popular search engines in heavily favouring recent content. Pinning and re-pinning frequently are necessary to appear within current results for a given search term, regardless of how popular your content is.
Users pin and re-pin posts to Pinterest Boards, which naturally push the content on Pinterest into categories. This makes easily-categorized content most apt for sharing, and wisely-chosen keywords essential to successful post captions.
Top tip: That stunning visual content on Pinterest? Undoubtedly the hard work of a designer, photographer or videographer. Technically, you're only supposed to pin content of your own or that's within the public domain. Be sure to attribute your pins appropriately.
Who should use it: Fashion, food, design, travel and anything DIY; audience skews female by 4:1
What to share: Creative, visual content
Post frequency: Multiple times per day